Organisation Profile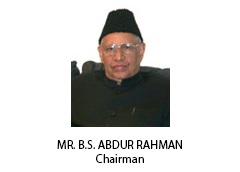 Mr. B.S. Abdur Rahman, Chairman has also founded Seethakathi Trust, which manages 3 educational institutions in various parts of Tamilnadu and Hospital in Ramnad District. He has also founded the All India Islamic Foundation which manages 9 educational institutions, one 150 bed hospital and 2 Children Home for homeless children in Madurai.
For more details : http://www.bsabdurrahman.in/
Mr. Abdul Qadir Abdul Rahman Buhari as Founder and Trustee.
He has achieved great milestones at a very young age and now the Managing Director of West Asia Maritime Ltd (WAM).

Mr. Abdul Qadir has spent extensive time towards the welfare of the organization since its inception.
For more details : http://abdulqadir.in/
Mrs. Maryam Abdul Qadir is Founder and Secretary of the Trust,
who has dedicated most of the time and effort into the trust and had made sure that he was available for every requisite of the company.
She has also made sure to be a part of every event that is conducted by the trust to ensure complete knowledge transfer to the women in need.
Mr. Periathambi is the Manager of the trust since 2005 and have successfully completed many events including awareness programs, welfare and women empowerment.
He has also conducted some tv shows on women welfare. Since inception Mr. Periathambi has played a vital and key role in every department possible to ensure continuous help the women of the society.